Lighthouse Run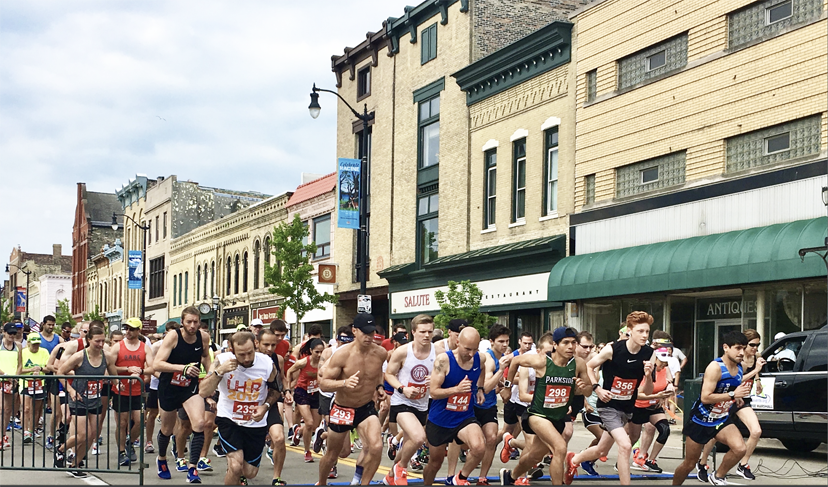 SATURDAY, JUNE 17, 2023

Lighthouse Run is scheduled for Saturday, June 17, 2023!
Celebrating 45 years in 2023, Lighthouse Run is Racine County's annual summer run celebration, offering competitive and non-competitive events. Participants can choose from four routes: 2-Mile or 4-Mile Fun Runs, 4-Mile or 10-Mile competitive runs.
Proceeds from Lighthouse Run benefit the Racine Family YMCA's Strong Communities development programs to strengthen underserved people in our community.
Awards are given to the top four male and female finishers in the thirteen age groups in the 4-Mile and 10-Mile runs.
RUNNERS/WALKERS RECEIVE
Performance Wear T-Shirt

Commemorative Race Bib

Commemorative Finishers Medal

Complimentary Beverages
Changes to this year's run:
Relocation of start and finish: The new start will begin behind the Double Tree Hotel. It will follow the Lake Michigan Pathway all the way to the Wind Point Lighthouse.
This change will showcase Racine's beautiful lakefront and provide participants a safe and scenic route. We want to showcase Racine's greatest assets including the Wind Point Lighthouse, Reefpoint Marina, the Racine Zoo, North Beach, and the beautiful Lake Michigan Pathway. 
Participants and teams can register online at www.RacineLighthouse.run. Early registration fees start at $25 for the 2 mile, $30 for the 4 Miles, and $45 for the 10 Miles. Those who do not wish to participate can help by sponsoring the event, donating, volunteering, or cheering on the runners along the route.
Race Contact: Patrick Flynn
1318 North Main Street
Racine, WI 53403
Sponsorship Contact:
Brenda Hughes
Racine Family YMCA
Email: bhughes@ymcaracine.org
Phone: 262-898-4756

Proceeds from participation in the Lighthouse Run support the Racine Family YMCA's STRONG COMMUNITIES CAMPAIGN that transforms the lives of Racine youth and families:
#KIDSTRONG
PROGRAMS THAT SERVE 1,000+ AT-RISK KIDS AND TEENS EACH YEAR
After school and summer initiatives that provide academic support and character development activities to improve grades, outlook and reduce summer learning loss

Mentorship for youth involved in or at high risk for involvement in the juvenile justice system to provide hope and the path to successful futures

Instruction that inspires healthy life choices
#FAMILYSTRONG
FAMILY STRENGTHENING PROGRAMS & SERVICES THAT ANNUALLY SERVE 800+ CHILDREN, TEENS AND ADULTS
Free, nutritious meals for families in need

Instruction in healthy food choices and meal preparation

Workforce development and job placement assistance to lift families out of poverty
#HEALTHSTRONG
INITIATIVES FOR THOSE WITH PHYSICAL CHALLENGES OR PRE-CONDITIONS, SERVING 265+ INDIVIDUALS EACH YEAR
LIVESTRONG program for cancer survivors and warriors

Exercise programs for individuals with Parkinson's

Diabetes prevention

Managing and monitoring blood pressure
Area businesses, organizations and others are invited to join the fun as event sponsors! Many levels are available and are 100% tax deductible!
We value our relationship with you and will serve as good stewards of your generous support. We are committed to delivering valuable benefits and a positive partnership experience. Potential promotional opportunities vary from 10,000 to 100,000 impressions for one year, depending upon type and level of sponsorship. 
View our sponsorship opportunities: 

 Thank you for being part of Lighthouse Run and helping to build a stronger Racine. See you in June 2023!
View 2022 Lighthouse Run race results and media coverage
Thank you to all the participants of this year's Lighthouse Run on Saturday, June 25th, and to the many volunteers, sponsors, staff and municipalities who made the 44th running of this historic community event possible. Congratulations to this year's top finishers, Craig Hundley and Rhyanna James (10 Mile) and to Racine natives Johnny Binzak and Amanda Johnson, who won the 4-mile championships. Congratulations also to Cory Sebastian, race chair, Vice President of the Racine Family YMCA Board of Directors, and member of the Milwaukee Business Journal's 40 Under 40 Class of 2022, for an exciting and successful event. Lighthouse Run proceeds provide youth academic and leadership development and family strengthening programs to our community. Thank you to all who make Racine an even stronger community through your support! Thank you to our 2022 sponsors: Ascension (Medical sponsor), Educators Credit Union, Modine Manufacturing, Sebastian's Fine Food & Dining, Image Management, Landmark Credit Union (Kid Zone & Water Stop sponsor, Fortune & McGillis, Katt Construction, Retail Fixture, Twin Disc (Race Bib sponsor), US Cellular (Fruit & Ice Finish Line sponsor); Fastsigns and the Racine Journal Times (media partner). Event partners: Downtown Racine Corporation, Focus on Community, Racine Megacycle Club, Racine Zoo and Wings of Fire Consulting. Special thanks to Mayor Cory Mason, the City of Racine, Racine Police Department, Racine County Sheriff Department, Racine Fire Department, Racine Dept. of Public Works, City of Racine Parks, Recreation & Cultural Services Department, Racine County, Village of Caledonia and the Village of Wind Point. 

MEDIA COVERAGE:
https://journaltimes.com/sports/recreation/lighthouse-run-sebastian-sees-a-lighthouse-run-revival/article_2b494df4-f4cf-11ec-9578-fb11cb1dbf0c.html
https://journaltimes.com/lighthouse-run-racine-natives-binzak-johnson-win-4-mile-championships/article_9e77a49c-f4c0-11ec-a723-77e2ca8422f7.html
https://journaltimes.com/sports/recreation/lighthouse-run-james-a-teacher-in-thailand-wins-womens-10-mile-championship/article_37a52bfa-f4b0-11ec-abb2-8fccf15e2fac.html#tracking-source=article-related-bottom